You may be feeling as if USCIS' processing time for your case is ultimately affecting your quality of life. If this is the case, you are not alone. Today, many foreign nationals are faced with the frustrating reality of USCIS' processing times constantly increasing. Their dramatic increases since the start of the COVID-19 pandemic has caused delays in individuals' ability to do what so many US citizens have the ability to do every day. Two major setbacks that foreign nationals are experiencing include the inability to obtain or renew a driver's license through the Department of Motor Vehicle (DMV) or register with the Social Security Administration (SSA). Without proper documentation from USCIS and increasing processing times, foreign nationals are frustrated because they are forced to wait to obtain the benefits associated with these agencies.
Well, ZP wants to let you know that there is a light at the end of your tunnel! Earlier this year in March, USCIS announced their efforts to reduce agency-wide backlogs by the end of March 2023!

Since the announcement, USCIS has increased capacity, improved technology with a better tracking system and increased their staff. They have released some internal guidelines to speed up case processing times, including established internal cycle time goals used as a metrics to guide their reduction efforts. USCIS uses cycle times to monitor the amount of pending cases in their workload and gauge the progress made in the reduction of backlogs and processing times.
USCIS released a chart outlining the new cycle time goals: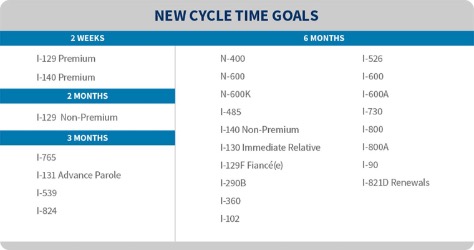 You may not be aware that there is an interagency platform called SAVE (Systematic Alien Verification for Entitlements) that is causing some of these delays. The SAVE system allows federal, state and local agencies access to official immigration information via a secure Web browser. These agencies use SAVE to request confirmation of US immigration status that is compared to federal government records before a benefit can be granted by the requesting agency (e.g., the DMV). The actual benefit eligibility is not determined by SAVE. Although SAVE can take seconds to confirm a status, there are times when it can take weeks to provide a response verifying status which causes a processing delay. The expectation is to reduce SAVE wait times bringing it down from 40 days to 10 days to receive a confirmation. This will get you driving behind the steering wheel or registered with SSA sooner than you expected!

ZP will continue to monitor these changes and provide you with the most up-to-date changes as they become available, so make sure you follow our page.
As always, please feel free to reach out to your ZP attorney with any questions or concerns.